64 cbm intermediate storage for de-watered sludge at the Hartlepool (GB) location
Year of manufacture 2008
For our English partner AGRIVIERT, in 2008 we developed a compact piling container for de-watered sludge which, as part of the overall logistical concept, decisively increased the cost-effectiveness and hygiene of sludge disposal in the sewage treatment plants of smaller cities in northern England. Open sludge storage sites or containers with their corresponding odour and hygiene problems are now a thing of the past.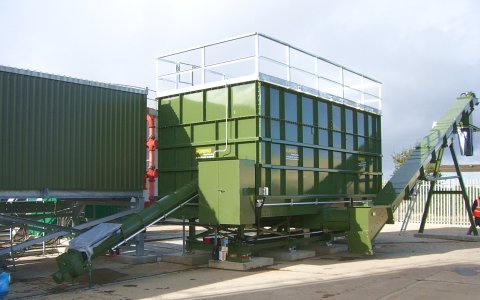 Our partners set the following requirements, amongst others, for the system:
Closed construction
Easy connection to upstream centrifuges or chamber filter presses
Reliable, robust technology
Shortest installation times and simple dismantling for location change
Compact design for uncomplicated integration into existing systems
High utilisation of available volume
Minimised downtimes for transport vehicles thanks to high discharge capacities
Fully automatic operation along with the simplest operation
Fulfilment of the stringent requirements of the English water management authorities
Integrated weighing in association with automation facilitate a decentralised request for the amounts of sludge accruing in the individual plants, ensuring optimal disposition of vehicles for removal of the dewatered sludge. In certain plants, an on-demand function of the controls ensures the automatic generation of a request for a transport vehicle once a previously set limit value is reached.
This concept has proven to be so convincing that over the ensuing period, additional plants were equipped in the same fashion and integrated into the logistical concept.
The system represented here was realised in Hartlepool in 2008 as the first in a series of systems and since then, has reliably carried out its service.
Technical key data:
Volume: approx. 64 cbm
Sludge piling volume: approx. 60 cbm
Discharge capacity: approx. 2 * 25 t/h - 30 t/h = 60 t/h
Transport vehicle loading time: approx. 20 - 25 min