Impact crushers
For high-wear substrates or organic wastes
Impact crushers HPZ 900 und HPZ 1200
Impact crusher HPZ 1200
The impact shredder HPZ 1200 is the larger counterpart to the HPZ 900, basically has a similar design and can also be used in a controlled manner in batch operation. The rotor is also arranged vertically and equipped with reversible hammers on several levels for coarse shredding. In the lower area of the shredding area, baffle plates work, which cause a high degree of material breakdown and fine defibration. All tools are centrifugally positioned and can swivel out of the work area in the event of overload or contact with foreign objects. The wear plates with the impact strips and the tools are made of wear-resistant Hardox steel.
Like the smaller product, the HPZ 1200 can also be equipped with the intermediate floor (granted industrial property right) and also has a water inlet in the shredding area, which can significantly improve shredding. Depending on the application, drive powers of 75 - 110 kW are available.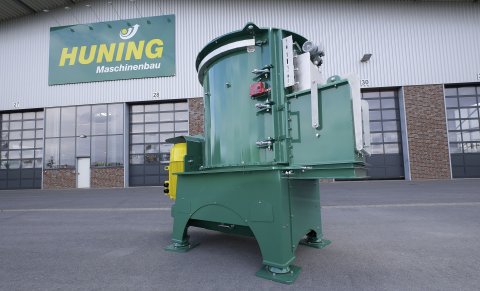 Impact crusher HPZ 900
The impact shredder HPZ 900 is used to shred organic waste and wear-intensive substrates with a high mineral content. Depending on the overall process, it can be operated both batchwise and continuously. The central rotor is arranged vertically and is driven by a low-noise belt drive. The work area is equipped with exchangeable wear plates. Depending on the task at hand, the intermediate floor (granted industrial property right) can be installed, which results in a longer exposure time and thus a higher material breakdown.