Conveying technology for biomass
Conveying technology
thickness of spiral  20 - 25 mm
Wear-resistant plastic cladding RCH 1000
Conveying capacity up to 100 m³/h (depending on product)
Lengths of spiral:  Up to 20 m horizontal  (as of 20 m cascades)
Lengths of spiral:  Up to 9 m horizontal  (as of 9 m cascades)
Diameters of spirals: 190 mm, 300 mm  (standard), 460 mm, 620 mm
Main advantages
Reduced risk of blockage / no gap between screw flight and base
Large open receiving space (no reduction by centre pipe)
Sturdy but flexible design
Design is relatively tolerant to impurities such as stones
No end bearing
Typical conveyed materials:
Biomass: grain, pellets, waste, sludge, leftover food, sugar beet

Plastics: plastic chips, plastic granulate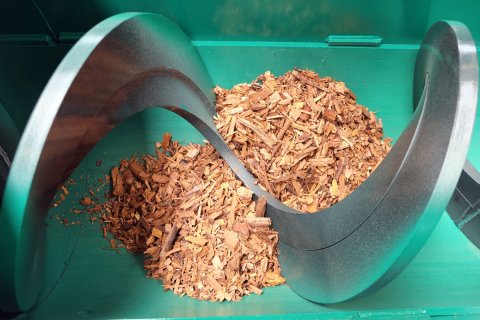 Fermenter feed technology / spiral conveyor screw
The digester is fed by a vertical spiral conveyor transferring the biomass to an inclined digester screw. This loads the substrate into the digester safely below the level of the liquid. Of course, it is also possible to load 2 digesters.
Digesters with a concrete ceiling can also be directly filled from above, through the concrete ceiling.
Alternatively, our containers can also be connected to hydraulic conveyor systems.
Industrial conveying systems
Spiral conveyor paths from Huning Maschinenbau are utilised to span large distances in many industrial sectors. With their robust construction, low wear and high tolerance of impurities, Huning spiral conveyor paths exhibit significant advantages, especially compared to hydraulic conveyor paths and continuous conveyors and therefore are used in great numbers around the world.