Thorsø miljø & Biogas, Thorsø Denmark
Biogas plant expansion / new construction of loading system (expansion 2013/2014)
Realisation of a ZBC 100 pull floor loading system with Optimatic Hammer Mill crushing unit for dosing biomass substrates such as maize silage, sugar beets, solid manure etc.
In 2013, Huning delivered a pull floor system (ZBC) for the company Thorsø miljø & Biogas to enable the use of solid substrates in the biogas plant. A volume of about 100 cbm was constructed. Some of the substrates include very large grain lengths which require pretreatment by crushing. The ZBC is connected to the Optimatic Hammer Mill in such a way that all substrates are crushed and then brought to the pump for distribution.
The ZBC is discharged through the built-in stainless steel sliding frames in the SP 460 worm discharge conveyor to the Optimatic Hammer Mill. The ZBC is filled either directly by driving up to the bunker and dumping, or over the side wall with the help of telescoping loaders. After being run through the hammer mill, the crushed substrate is mixed in the Wangen BIOMIX pump and distributed to the digester.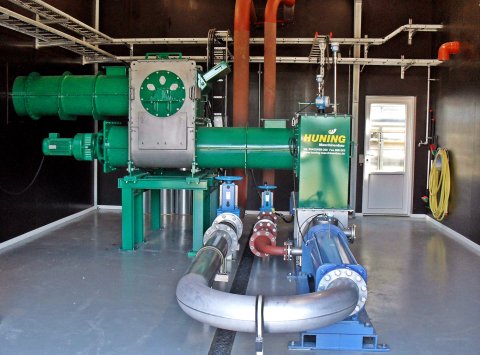 The development of the Huning loading systems in combination with crushing by our special crushing units, in this case the 55 kW Optimatic Hammer Mill, has demonstrated that crushing substrates contributes to faster digestion and a shorter retention time in the fermentation process in many biogas plants. By processing more biomass within the same time, the gas yield can be correspondingly increased and the plant can be used more effectively.