Emscher Genossenschaft Bottrop
Conveying and storage technology for the largest solar thermal sewage sludge drying plant in the world at the Bottrop treatment plant of the Emschergenossenschaft
Conveying and storage technology for the largest solar thermal sewage sludge drying plant in the world at the Bottrop treatment plant of the Emschergenossenschaft
The Emschergenossenschaft has constructed the largest solar thermal plant for drying sewage sludge in the world at the central sludge treatment plant in Bottrop. The system stretches across a total surface of 61,000 square metres. In future, up to 220,000 tons of de-watered sewage sludge can be dried at this location. (Source: KA Korrespondenz Abwasser, Abfall 2020 (679 no.7) 
In this demanding major project, HUNING was able to bring in its expertise as a system constructor with the realisation of the sewage sludge conveying concept. For this purpose, six pull floor systems were built in the central logistics hall, among other things. This is used to receive all solar-dried sludge as well as de-watered wet sludge. Upon request, this is delivered via discharge worm conveyors onto a collecting belt system which, in combination with an existing conveyor belt and newly integrated belt systems, is used for further conveyance into the incinerator. 
For reasons of process safety, the sludge is first dried in solar thermal drying through the paste phase to a dry substance content of approx. 60-70% in order to create a material with bulk-like substance characteristics instead of a pasty mass. A controlled remixing with wet sludge directly before burning makes it possible to set an optimal heat value for the sludge, i.e. the heat value is set with the aim of ensuring self-contained incineration on the one hand and to prevent costly cooling measures for the furnace on the other. 
This demanding process step was technically implemented by HUNING with the delivery, installation and commissioning of two additional pusher plate containers of the SBCI and SBC series, various hydraulic and mechanical conveyors, two continuous mixers and the necessary sensors for controlling the system. It was possible to integrate all the necessary components into an existing building in a compact and space-saving way directly in front of the incinerators. 
In this project, we were once again able to prove our professionalism in system construction, characterised by our timeliness, quality, flexibility and, last but not least, the uncompromising dedication of our employees.
Further information and a detail description of the entire system can be found in a technical article that appears in KA Korrespondenz Abwasser, Abfall 2020 (67) no. 7 on pages 515- 517.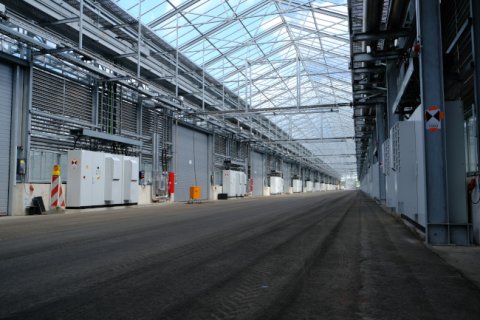 Running lane for the solar drying halls arranged on both sides
Sludge distribution system in a drying hall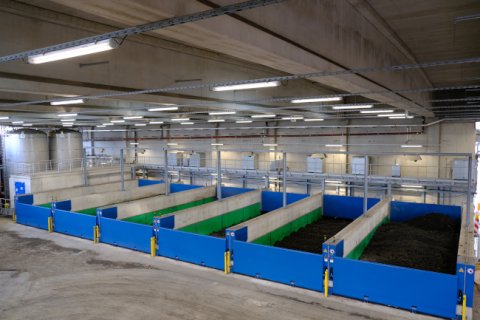 Huning sludge receiving systems for dried sludge and wet sludge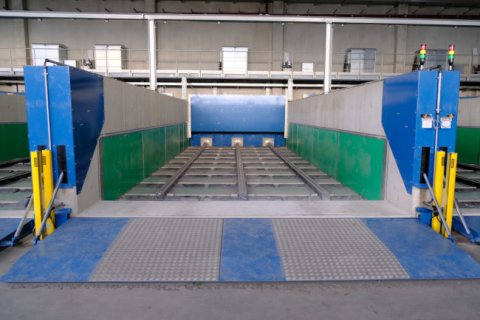 Pull floor system for receiving sludge with hydraulic closing ramp
Hydraulically actuated covers for two wet sludge receiving systems
Integration of sludge piling systems into an existing building in front of the fluidised bed furnaces
Sludge piling system for partially dried and wet sludge with belt feeding technology and mechanical and hydraulic discharge conveyor technology to the remixing systems before incineration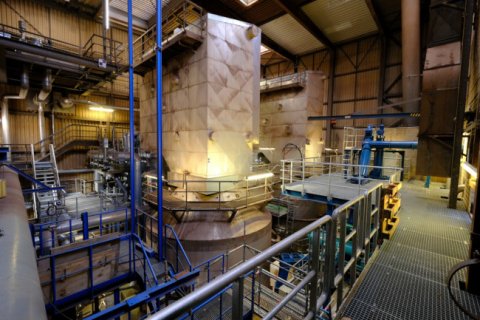 Controlled remixing of wet and dry sludge in front of the fluidised bed furnaces