Schweich Municipality
Sludge piling systems for the Schweich municipality at Riol and Leiwen
The Schweich municipality operates the two group sewage treatment plants of Riol and Leiwen with 40,000 and 33,000 PE respectively. Both plants are influenced by wine campaigns. 
In the existing operating buildings, in which chamber filter presses were previously housed, two screw presses have been integrated for de-watering the accruing sludge. From here, the sludge is fed into a sludge piling container with pusher plate discharge which was placed next to the operating buildings. The de-watered sludge is loaded on dump trucks and fed into a thermal recycler. The focus here was on a mechanical and process-safe design of the system. Therefore, worm conveyors were selected for the conveyance. A distribution device in the containers ensures optimal utilisation of the space of the available volume of approx. 60 cbm. Discharge takes place via hydraulic sliding frames and downstream worm conveyors with a conveying capacity of approx. 50 to/h. The containers are equipped with sensors for monitoring the operating states and are weighed. Furthermore, the design of the plant results in easy accessibility for the maintenance of its components close to the ground. Both containers also save space at the treatment plant and blend harmoniously into the landscape, which is characterised by viticulture.
For the waste water operation, the simple emptying and truck loading in particular were decisive for the selection of the Huning system. The sludge pending for disposal no longer needs to be reloaded any more or treated in any other way. It can be given directly to the transport vehicle after de-watering. This saves the waste water operation personnel costs and machines that would have been incurred with a classic reloading installation.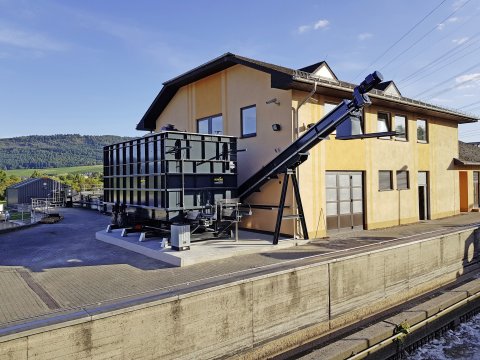 Sludge piling system 60 cbm Riol 

Sludge piling system 60 cbm Leiwen